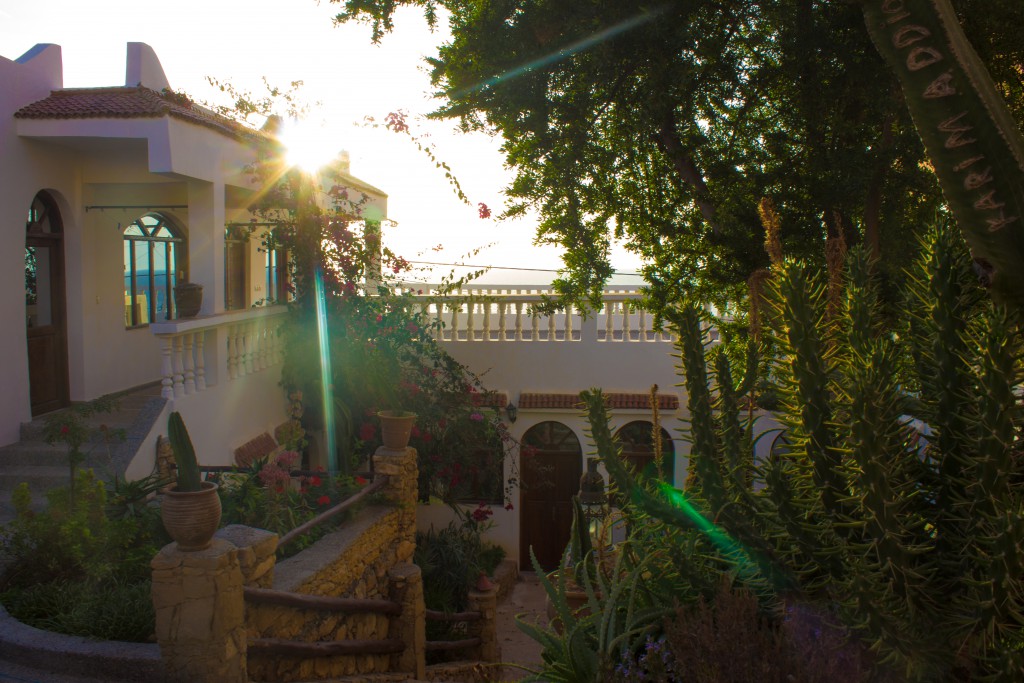 Here you will find one of our two accommodation offerings – a stylish villa, just 5 minutes walk from the beach. From the roof terraces of the villa you have a breathtaking view of several popular surf spots and the mountains, the perfect spot for chilling out after a long day of surfing.
For more relaxation a traditional argan massage can be booked up on arrival.
Stay with us
Our Surf House in Tamraght has several suites, double and standard rooms for a total of 18 guests. The rooms are spread over 4 floors – that means a lot of room for everyone! Each room has either a sea view or looks over our beautiful garden.
Of course you can find WiFi in our camp in Tamraght and in the lounge there is a wide range of games, great music and a small library with novels, magazines and guidebooks. So Tamraght is the perfect spot to spend an unforgettable surfing holiday in Morocco.
Relax with "All-you-can-drink" tea in a traditional Berber tent on our Top terrace, lean back and enjoy the incredible views over Tamraght and the many surf spots in Morocco.
DISCOVER TAMRAGHT
Tamraght is located directly on the beach. It is a quiet town that is perfect for chilling and surfing – with the surf spots Banana Point, Devils Rock, Crocro and Panorama Beach. If you find that ashore is "too quiet" at times, the bus stop and taxi stand in front of our camp links you with Agadir to topple you into the Moroccan nightlife.
[Best_Wordpress_Gallery id="5″ gal_title="Surfcamp & Surflessons"]
Season Guide
| | Swell | Air Temp | Sea temp | Wetsuits |
| --- | --- | --- | --- | --- |
| Sept - Nov | 4 - 8 ft | 25°C - 30°C | 18°C - 21°C | shorts/shortie |
| Dec- Feb | 4 - 15 ft | 18°C - 26°C | 16°C - 18°C | 3/2 full suit |
| Mar - May | 4 - 6 ft | 20°C - 30°C | 18°C - 20°C | 3/2 full - short arm 3/2 |
| Jun - Aug | 2- 4 ft | 25°C - 30°C | 21°C + | Shorts / vest |