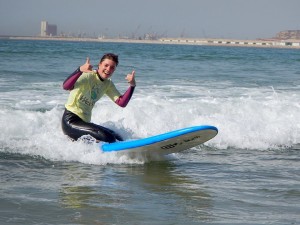 Finally!!! Back home again. Exactly, this is what home feels like. Coming home to friends and family. The reception was like each time, affectionate. So nice to be picked up personally at the airport and not having to take some random taxi. It makes you feel welcome and well taken care of, right from the beginning.
Its already my 4th time visiting West Surf Morocco, so my friend Janina asked me to write a blog entrance about my stay with them. Rather challenging to fill a blank sheet ad hoc … so lets start by giving it some structure and a title:
My first day surfing:
8am: Breakfast on the roof terrace. What do you want more than overlooking the ocean whilst enjoying a coffee? Meanwhile I get to meet the other surf camp guests. They all seem very nice and open. Which does not surprise me, as most surfers are nice and open 😉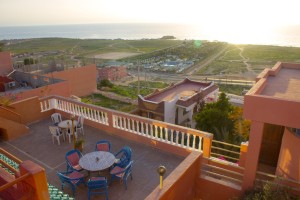 9am: Departure 🙂 Finally, the surfboards are being attached to the roof rack and the wetsuits stored in the car. If every body helps, it goes fast. Aziz and Ismail, our surf instructors, make a last analysis on the current wave condition and choose the best surf spot, according to the guest's surf level. And offwe go! Today we're heading to Anza, yesssss 🙂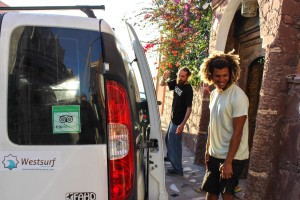 What time is it? No idea, not of importance. Its high tide, quick, quick, put on your wetsuit. And warm up. Not my favorite activity. Don't like it at all having to run around in a tight wetsuit. I'm not here for jogging; I'm here for surfing 😉
But then again, I do appreciate what the warm up does to my body. AND even professional surfers do a warm up and stretch their body. Role model coaches Aziz and Ismael are adamant. Even during my 4th visit all my moaning does not help – I'm forced to participate in the warm up like everyone else. I reluctantly join and get through the warm up and technical exercises on the beach.
With one eye constantly focused on the ocean and longing to get in there!
Start off with some stand ups in the white water, says Aziz. Ok, lets go for it. The next wave braking I'll go for! This one! Paddle, paddle, paddle, and stand up … bend your knees a little, turn slightly, yessssss, I can still do it, nothing forgotten. Seems my body too remembers how it works.
And then the time stands still. Paddle out, turn the board, paddle for the wave, stand up, enjoy. So simple! Once again a deep contentedness, calmness and sense of freedom overwhelm me. Wow, I had not realized how much I'd missed this all!
After each wave I get some tips and corrections by Aziz and Ismail. "It was a good one, BUT…" ☺ I'm here to learn and improve. And they both know very well how to treat the guests by encouraging and supporting them.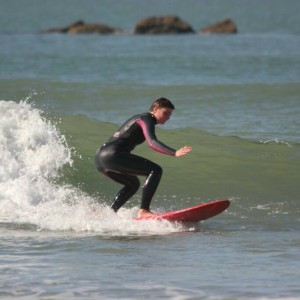 Eventually every body gets tired; guess its time for lunch and a short brake from the water. Delicious sandwich! Janina is the worlds best sandwich maker! Just the lunch box itself is all the reason to come back again and again. Oh and how sweet, she remembered I don't eat tomatoes. I could hug her!
This is a further reason why I keep coming back to Westsurf Morocco, their personal attentiveness. In any random surf school with many guests I would have needed to mention again that I don't eat tomatoes. But here they pay attention to these kinds of details.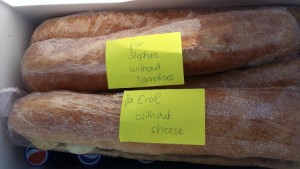 A short break after lunch to digest, and then quickly back in the water for a second surf session. The time is no longer relevant, only the water and having fun counts, until all the energy is used up. Everybody seems to be having fun, coming out of the water, excited, discussing the strong current, sharing what waves they managed to catch and what fun they had.
Eventually everybody is gathered on the beach, exhausted, but each with a sparkle in her/his eyes. What a nice atmosphere. I know I keep repeating myself, but I really missed this too.
Later in the afternoon we head back to the villa. Shower, have a rest and then its time for yoga.
The combination of surfing and yoga is just amazing. The stretching positions help to soothe the sore muscles. The balancing exercises are ideal to help you improve your standing on the board. You also learn to concentrate on being in the moment, and all this during sunset on the roof terrace. Could you wish for a nicer place to be?
After yoga there is even a further activity planned. All guests from Westsurf Morocco go for dinner to Taghazout accompanied by Janina. What a nice initiative. The atmosphere is great and we get to deepen our acquaintances.
Sometime around 11pm I'm back in my room in the villa.
I let the events of the day go through my head again.
Thinking to myself, this place makes me happy. Namaste.
Your Stephanie