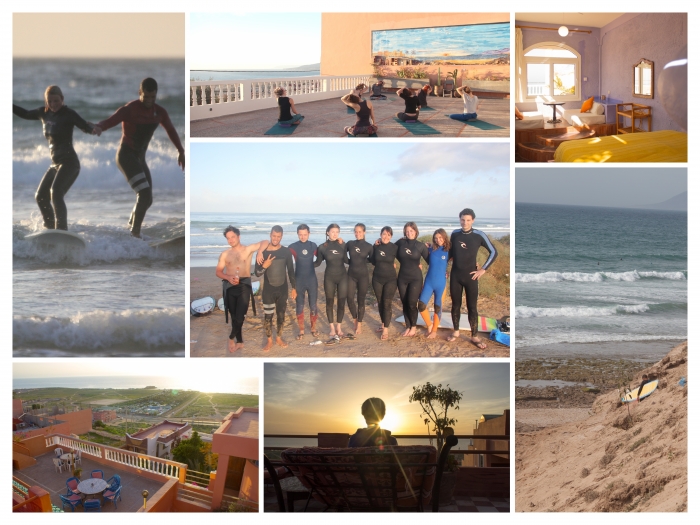 From our terraces to the surf, from Abdelrahman´s kitchen to the beautiful smiles of the team, Here you find everything about us and why a surftrip is worth to Westsurf Morocco.Thanks to everybody who helped us creating this list with us!

1 The most chilled surf vacation ever is waiting for you here in Morocco
2 Funniest surf instructor and if you´re lucky you will get pushed into your next wave
3. You will wake up and have breakfast on our terrace and all while watching already the ocean
4. Explore more than the surf with Aziz and Omar, they show you more than the surf and guide you to some local shops and the best fresh juice in town
5. Right time right spot, that´s what´s all about
6. Janina is welcoming you in the camp and give you an amazing tour and some local advices
7. Abdelrahman is cooking for you the most delicious traditional dishes you can ever taste
8. Janina welcomes you with a big smile every morning before heading to the beach
9. Taste the best lunches on the beach, freshly prepared by us
10. Watching the sunset from our terrace never gets old
11. You can practice yoga for sunrise or sunset at any time you wish on our terrace with sea view
12. Enjoy an amazing traditional Thaiaromamassage after a hard surfsession
13. We bring you to the best surfspots you don´t have to drive and the best you will explore more than the spots in local area
14. If you have not enough of all the Moroccan shops around, we will guide you to the bazar in Agadir or to Paradise valley
15. Aziz will show you how to poor tea like a real Moroccan
16. You will learn to cook and eat like a traditional Moroccan family does
17. Omar & Aziz will take you everyday to a new surfadventure and take photos of your favourite moments and make a an analyse
18. You have your own space, no typical dorm!!! Each room is designed with love in modern traditional way and welcomes you to feel at home
19. Meet lovely people and enjoy the unique atmosphere of the camp
20. After one week you will feel like leaving your second home
That´s sound like an amazing list, thanks to everyone on it making it possible!