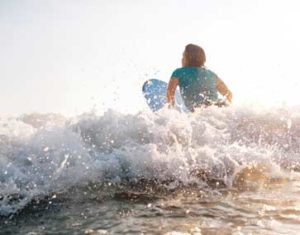 Not fun, but important is to respect some rules at surfing. For a good time in the line up with the other surfers, should everybody respect some rules. It´s important to avoid accidents and of course arguments with other surfers in the line up.
The rules you should respect and not forget on your next surftrip you will get to know in our new blog right here:
1) Too many are too much
Too many surfers aren´t fun in the line up. Of course you should learn how to share waves, but on arrival at the surfspot you should seperate your group, if you would be too many people on one spot in the water.
2) Be polite
not only to the rest of the surfers in the water, also to nature. Don´t throw your cigarettes and your plastic away. Keep clean what makes you happy.
3) More is less
jump in only if you feel really confident enough. In worst cas you will hurt yourself or other surfers in the water.
4) Keep control
take over control over your board. No one needs a surfboard in the line up without surfers. Would be dangerous for you and for all other surfers in the water.
5) Give way
One of the most important rules, you always should keep in mind is: Give way. Like traffic like line up. The one who is closer to the peak is first and if someone is already in the wave, don´t drop in.
6) Relax
relax and be polite don´t swear loud it´s giving bad vibes. Stay relaxed and it will work out with the next wave 🙂
7) Less is more
choose your wave carefully. If you think this is your wave take it and let the other waves for other surfers.
8) Falling with style
Everybody is falling, important is to fall correctly. If you fall it´s better to fall next or behind your board. Then you avoid to get hit by your own board.
9) Stretch yourself
Even if you can´t wait. On the way to the water take your time to stretch your body. Then you don´t risk injuries and you can enjoy the waves a lot longer.